Link
Welcome to the exciting world of windsurfing exploration! Our specially designed Links are here to support you through every stage of learning, from your initial glides to mastering the art of planning.

With their stable and generously wide shape, coupled with a compact design, our boards are highly accessible and effortless to maneuver. Regardless of your size, we offer a range of boards that are perfectly suited to your needs, providing reassurance and support as you progress in your windsurfing journey. Built with a sturdy molded construction, the Links are resilient against all forms of wear and tear, making them particularly fitted for sailing schools. The deck is fully covered with an EVA pad, offering unparalleled comfort and giving beginners peace of mind in case of a tumble.

Additionally, all our models feature a mast foot insert at the board's nose, allowing you to bring along a child for tandem rides, introducing them to the exhilarating experience of windsurfing with ease.

To enhance versatility, our Link 10' model is equipped with a dedicated foil box, enabling you to use the board for windfoiling and exploring new dimensions of windsurfing possibilities.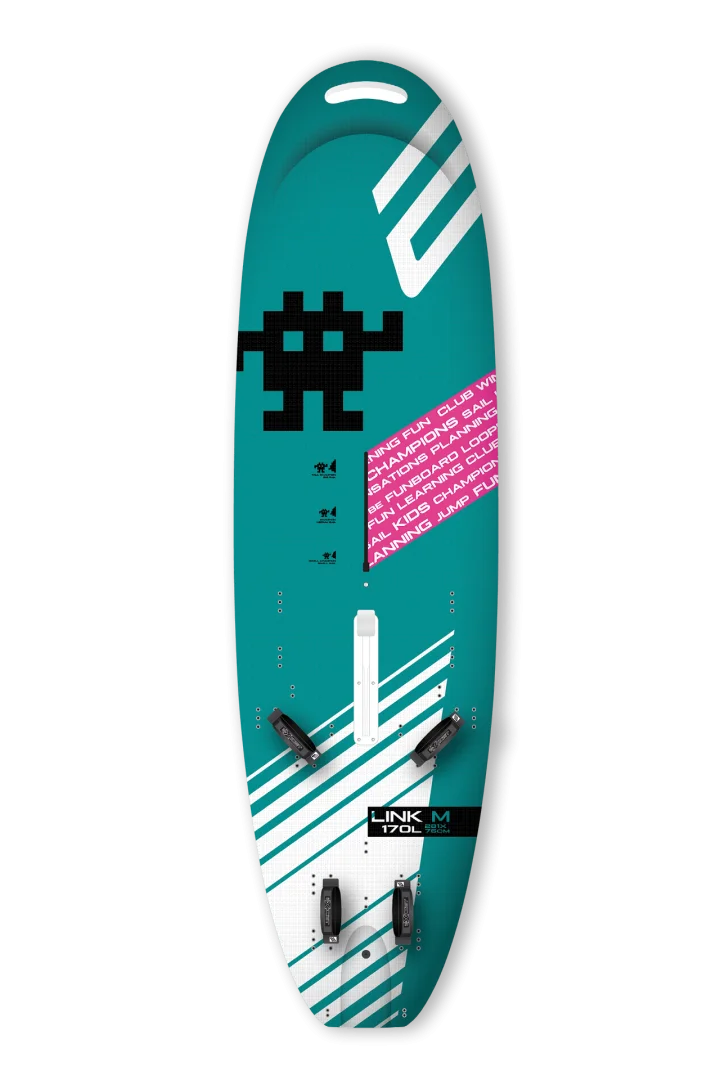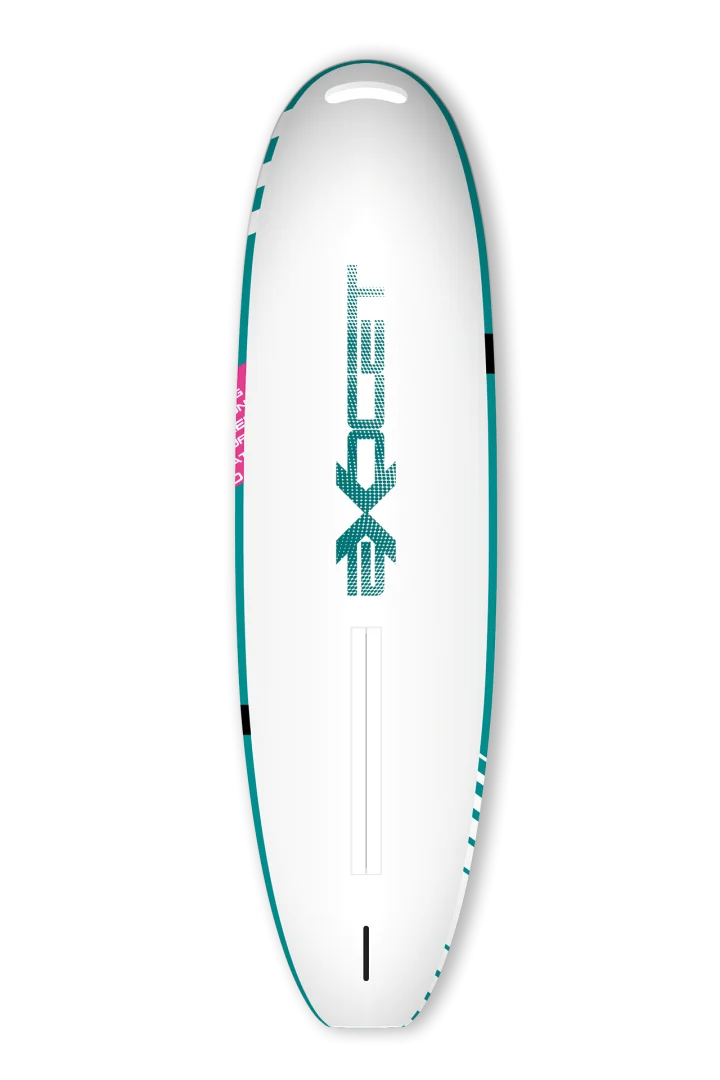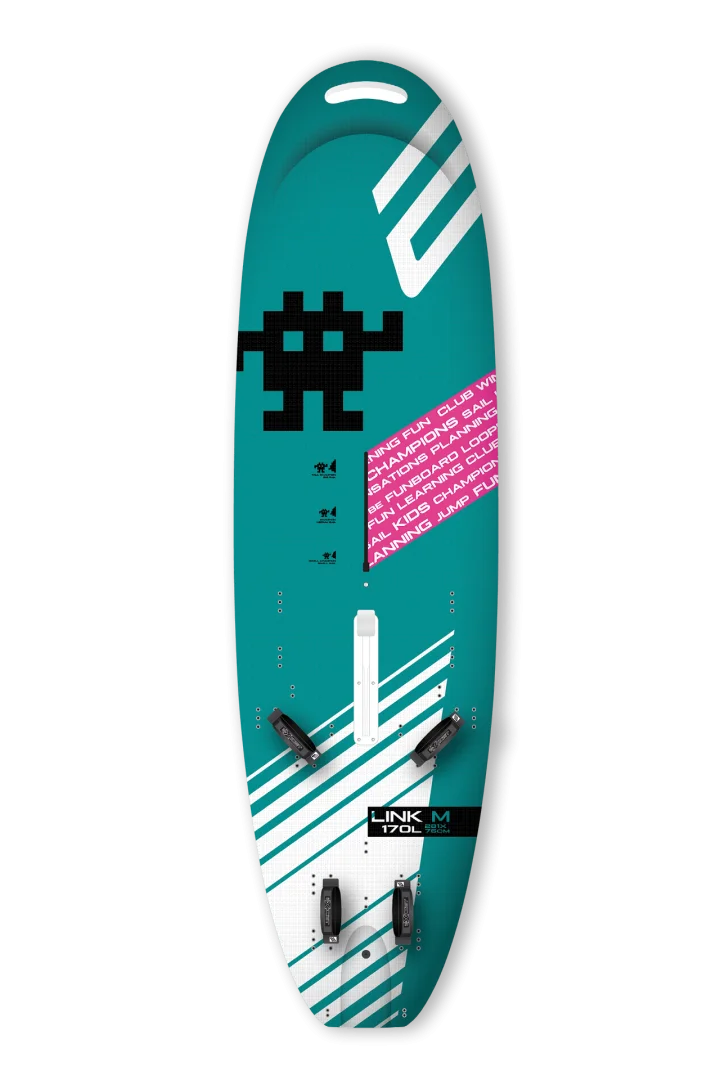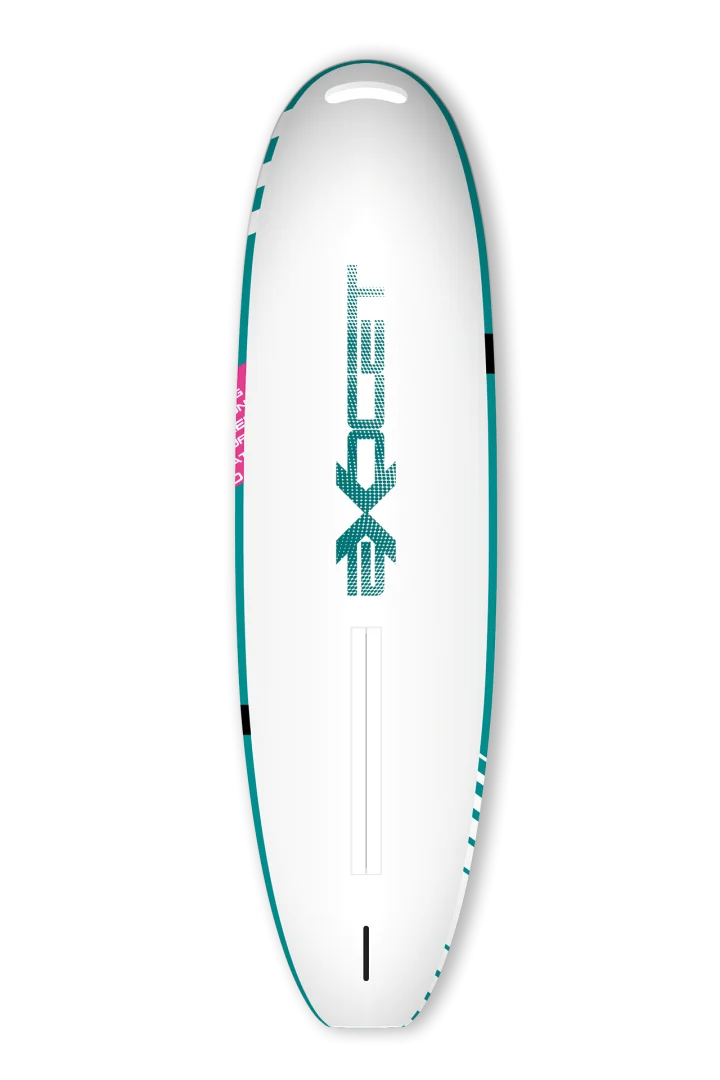 Characteristics
EASY AND INTUITIVE PROGRESS
With its ample volume, the Link is a forgiving design shaped to make learning fast and easy. With its excellent lateral stability, riders can focus on further honing their skills. Its length and parallel rails keep the board on course as it reaches planing.
THICK SKINNED
The board is designed to withstand everyday abuse usually reserved for windsurfing centers and sailing schools.
Tech Specs
ADVANCED SANDWITCH TECHNOLOGY (AST)
ADVANCED SANDWITCH TECHNOLOGY (AST)
The AST boards are built using a monolithic design that combines matte fiberglass, resulting in a straightforward yet robust structure. All boards feature a full-wrap fiberglass rail band to enhance strength and longevity. This construction boasts an excellent balance between price and quality, delivering exceptional durability. It is particularly well-suited for school and center programs, where reliability is a priority.
FOOTSTRAP POSITIONS
FOOTSTRAP POSITIONS
A variety of options allows you to optimize the board setup to match your skill level and riding style. The board features inboard footstrap plugs, which are ideal for easy cruising and a relaxed riding experience. If you prefer a more dynamic and sporty riding style, you can utilize the footstrap plugs positioned further out on the rail.
FULL EVA DECK
FULL EVA DECK
The full EVA deck of the board ensures excellent grip, optimal comfort, and enhanced safety across the entire surface.
RETRACTABLE DAGGERBOARD
RETRACTABLE DAGGERBOARD
The daggerboard enhances board stability in light winds and can be retracted for planning.
ADDITIONAL MAST BASE INSERT
ADDITIONAL MAST BASE INSERT
A mast foot insert on the nose of the board enables tandem use, making it easy to introduce a child to the first sensations of windsurfing together.
BUILD-IN NOSE BUMPER
BUILD-IN NOSE BUMPER
The board features a nose protector tucked underneath the EVA pad to safeguard the board from sail damage.
Comparison
Product
Technology



Volume



Length



Width



Weight +/- 6% KG



Fin Box



Sail Range



Link V4 AST S
AST
155 L
255 cm
77 cm
12.5 kg
Power Box
1.5 — 8.5
Link V4 AST M
AST
175 L
281 cm
76 cm
13.4 kg
Power Box
1.5 — 8.5
Link V4 AST L
AST
210 L
300 cm
80 cm
15.5 kg
Power Box
1.5 — 10.0
Link V4 AST XL
AST
230 L
270 cm
90 cm
16.5 kg
Power Box
1.5 — 10.0